A crystal-shaped convex polyhedron was used as the basis for designing in the building architecture. Eightedges is an 11-storey building, with 8 see-through triangular faces-planes offering breath-taking views of St. Petersburg beauty sights.
Eightedges Business Center is one of the few green buildings in St. Petersburg that have a low negative environmental impact. Sustainable technologies were applied at all project stages, starting from design and construction up to post-construction property and facility management.
The high-quality SCHUCO façade walls allow adjusting lighting intensity in the offices subject to the season and to the time of day, and guarantee comfortable temperatures inside.
HEATED PARKING WITH
117 PARKING SPACES
PANORAMIC RESTAURANT
WITH A TERRACE
ENVIRONMENTAL CERTIFICATE
AUTOMATED AIR CONDITIONING
AND VENTILATION SYSTEM
WITH HEAT RECUPERATION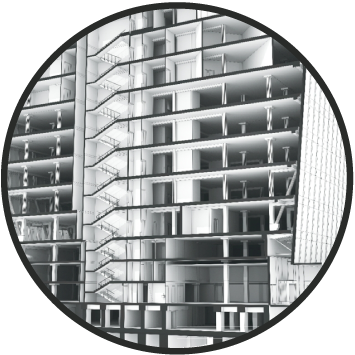 AUTOMATED SUNLIGHT PROTECTION
OF THE BUILDING FAÇADE
ULTIMATE SUSTAINABLE
POWER SUPPLY SYSTEM
DESIGN RECEPTION DECORATED
WITH NATURAL MATERIALS (STONE, WOOD),
AND CAFE
5 HIGH-SPEED LIFTS BY KONE
Heat Recovery Ventilation (HRV)
HRV saves around 60 % of energy required to heat up the inbound air flow in the winter. It can also automatically adjust air flow in the rooms based on the change of visitor flow. Fresh air intake flow rates meet both Russian and American ASHRAE standards. HRV also provides inter-seasonal heat storage, at outside air temperatures about 0°С, without additional energy sources needed to warm up the inbound air.
State-of-the-art Air Conditioning
and Fire Suppression Systems
Only new refrigerants free of ozone depleting and global warming inducing compounds are applied, which is safe to humans and to the environment. The Free Cooling method can utilize low external air temperatures in inter-season and winter months to assist in chilling water and the air conditioning system, which uses no chilling equipment and, consequently, no additional power.
Low Power Consumption
Energy-efficient lighting saves energy and reduces the load on the air conditioning and cooling system. The system can also automatically adjust air ventilated in the parking area subject to the traffic flow.
High-Performance, Energy-Efficient Window
and Glazing Systems
Full glass façades offer exceptional visual comfort and increased levels of natural light. Double-pane insulated glass panels with a sun defense low-E coating reduce building power consumption all year round. The external façade surface (heat exchanger) resistance is more than 70 % higher than required by Russian standards for buildings with a high glass index.
Ultra-Modern Integrated Building Management
System (Enterprise Building Integrator)
The Building Management System is a computer-based control system installed in the building that controls and monitors the mechanical and electrical equipment of the whole building and separate tenant units. Energy consumption is recorded separately for the entire building, for tenants and for each heavy power consumer.
Water saving
In the winter, exhaust air heat recovery from the unoccupied areas is used to melt snow on the roof, which drastically cuts down the heating power usage. Water-saving plumbing fixtures comply with the highest LEED standards. Roof top rain water harvesting will capture and store in reservoirs enough water to clean, wash and water the adjacent grounds areas.
45, Malookhtinsky Prospect
Technical Specifications and Equipment
Description
Manufacturer
Power

Available power (1.25 MW) through two insulating bushings
Building power capacity: 350 KW, 1st power assurance category for key building systems

Heating

Rooftop gas fired boiler (2.36 MW)
Floor convectors, with natural air circulation, installed along the perimeter of outside glazing

Viessmann, Germany
Air ventilation

Centralized, with exhaust air heat recovery

Hansa, Germany
Air conditioning

2-pipe air conditioning system, with a chiller monoblock unit
Specific capacity in the cold: 180 W/sq m

Geoclima, Italy
Integrated building management system

Computer-based control system to monitor all mechanical and electrical equipment
Integrated access control system
Centralized customer service system
Separate tracking of utilities consumption and billing

Honeywell, USA
Lifts

3 high speed lifts and one dedicated restaurant lift,
1 passenger and freight lift, 2 elevators

KONE, Finland
Fire and life safety

Fire alarm system
Fire sprinkler system

Honeywell, USA
Security and life safety

Centralized security alarm, access control and video surveillance

Honeywell, USA
Telecommunications

Each tenant shall, at its own discretion, sign a direct contract with any telecommunication services provider